Dharma Teachers of Amaravati Monastery

Teachers are listed alphabetically by first name, with monks and nuns given priority. You may also enter any part of a name in the text box and click "Find Teacher by Name."

Ajahn Sucitto


As a monk, I bring a strong commitment, along with the renunciate flavor, to the classic Buddhist teachings. I play with ideas, with humor and a current way of expressing the teachings, but I don't dilute them.

Ajahn Sumedho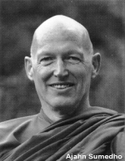 Ajahn Sumedho is a prominent figure in the Thai Forest Tradition. His teachings are very direct, practical, simple, and down to earth. In his talks and sermons he stresses the quality of immediate intuitive awareness and the integration of this kind of awareness into daily life. Like most teachers in the Forest Tradition, Ajahn Sumedho tends to avoid intellectual abstractions of the Buddhist teachings and focuses almost exclusively on their practical applications, that is, developing wisdom and compassion in daily life. His most consistent advice can be paraphrased as to see things the way that they actually are rather than the way that we want or don't want them to be ("Right now, it's like this..."). He is known for his engaging and witty communication style, in which he challenges his listeners to practice and see for themselves. Students have noted that he engages his hearers with an infectious sense of humor, suffused with much loving kindness, often weaving amusing anecdotes from his experiences as a monk into his talks on meditation practice and how to experience life ("Everything belongs").
Ayya Jitindriya


Ayya Jitindriyā first trained as a monastic in the lineage of Ajahn Chah & Ajahn Sumedho for over 16 years, from 1988-2004. After leaving the monastic order she gained a Master's degree in Buddhist Psychotherapy Practice with the Karuna Institute in the UK. Returning to live in Australia (her place of birth) in 2008, she practiced as a Buddhist psychotherapist and taught meditation, Buddhism and psychotherapy in various capacities. She was the Director of Training for AABCAP (Australian Association of Buddhist Counsellors and Psychotherapists) for several years. In early 2018 Jitindriyā re-entered the monastic life at Santi Forest Monastery in NSW and held the role of guiding teacher and Spiritual Director there for a time. In 2021 she helped to set up Viveka Hermitage in Southern NSW where she now resides.
Ayya Medhanandi


Ayyā Medhānandī Bhikkhunī, is the founder and guiding teacher of Sati Sārāņīya Hermitage, a Canadian forest monastery for women in the Theravāda tradition. The daughter of Eastern European refugees who emigrated to Montreal after World War II, she began a spiritual quest in childhood that led her to India, Burma, England, New Zealand, Malaysia, Taiwan, and finally, back to Canada.